Overview
Insider is one of the world's most popular and influential news brands. Launched in 2007 as Business Insider, Insider covers the news and stories of interest to the digital generation, from travel and lifestyle to finance and technology. Insider generates more than 250 million unique monthly visitors across the globe and hundreds of millions of video views each month.
Insider sought to improve the quality, efficiency, and security of its ad delivery, and partnered with Confiant, whose Ad Controls for Publishers solution was implemented to automatically monitor Insider's ads, block bad ads, and remonetize vacant ad space inventory. The result has been far greater ad delivery efficiency and a notable increase in ad revenue.
THE CHALLENGE
In 2019, Insider began to see an increase in complaints about its ad delivery, including malvertising attacks (ads infected with malware, forced redirects, etc). Low-quality ads also slowed the speed of ad delivery. To address the problem, Insider's Ad & Revenue Operations team wasted time manually blocking and replacing bad ads that were reported. Those were often replaced with revenue-free public service ads, causing a drop in potential revenue.
Insider's Ad & Revenue Operations team needed a solution that would automatically recognize and block ads with security and quality violations before the bad ads were served to the public, and re-auction those vacant ad impressions to maximize revenue.
THE SOLUTION
Insider's Ad & Revenue Operations team selected Confiant's "Ad Controls for Publishers" solution because of its ability to reduce the number of bad ads served while providing superior technology performance compared to other ad security competitors. Confiant's ability to automatically block bad ads before they are served and re-auction the vacant ad impression space in real-time was a revenue-elevating gamechanger for Insider's Ad & Revenue Operations staff. The Confiant ad slot refresh feature immediately facilitates a new, secure, and monetized ad to be served when a bad ad is removed, ensuring uninterrupted revenue flow for Insider Inc.
Since implementing Confiant's solution in March of 2019, Insider Inc. has monitored more than 9.66 billion cumulative ad impressions and blocked more than 43.8 million ads identified with security or quality issues.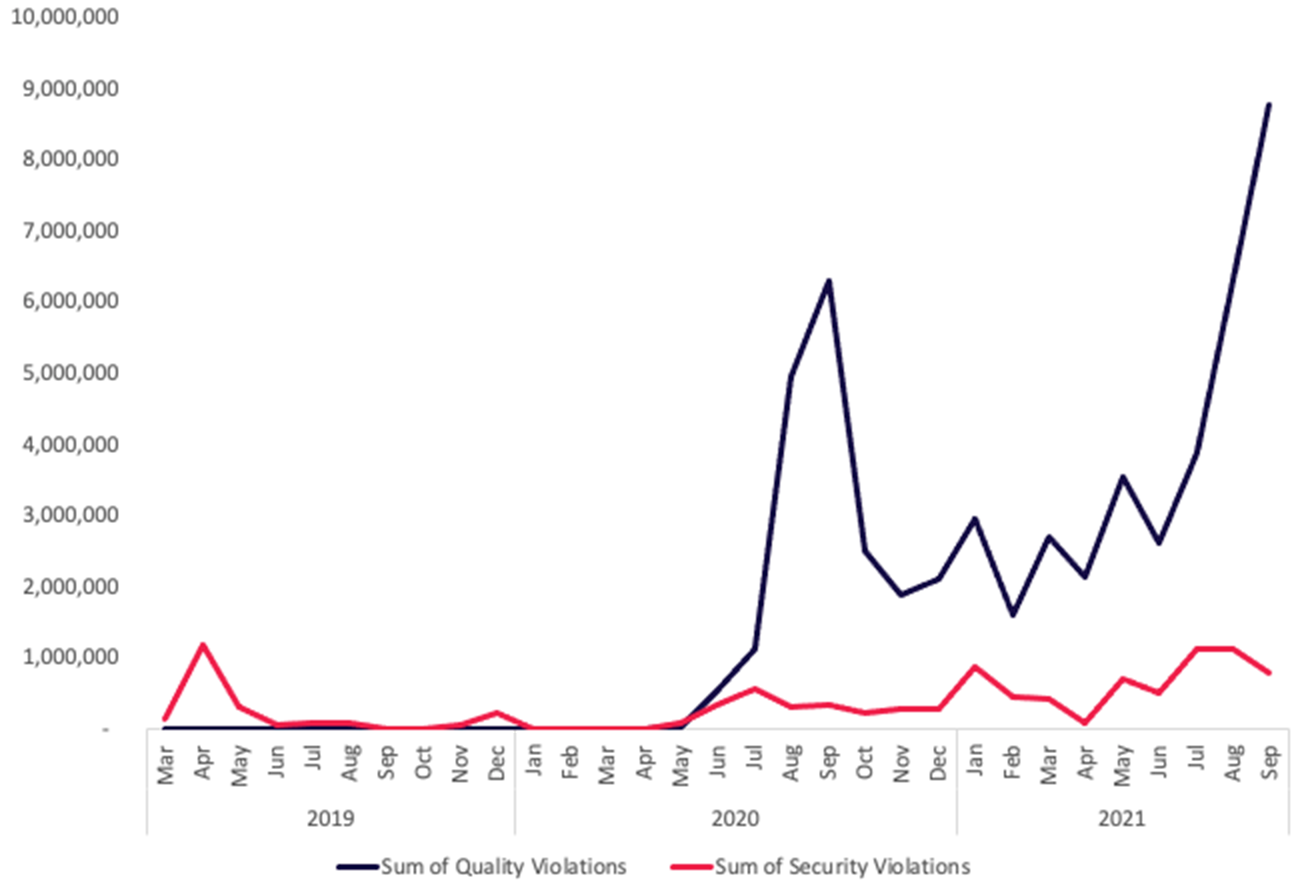 Ad Security Management
Even though threat actor activity increased significantly during 2020 and 2021, Insider Inc. reported huge improvements in their ability to manage bad ads on its platform with the addition of the Confiant solution.
Engaging with Confiant ad security technology has enabled the Insider team to easily identify ads that have security violations, and block the bad ads based on adjustable parameters that they control. Confiant has enabled Insider staff to take back control of their ad environment, monetize blocked ads by automatically re-auctioning those vacancies, and optimize ad revenues.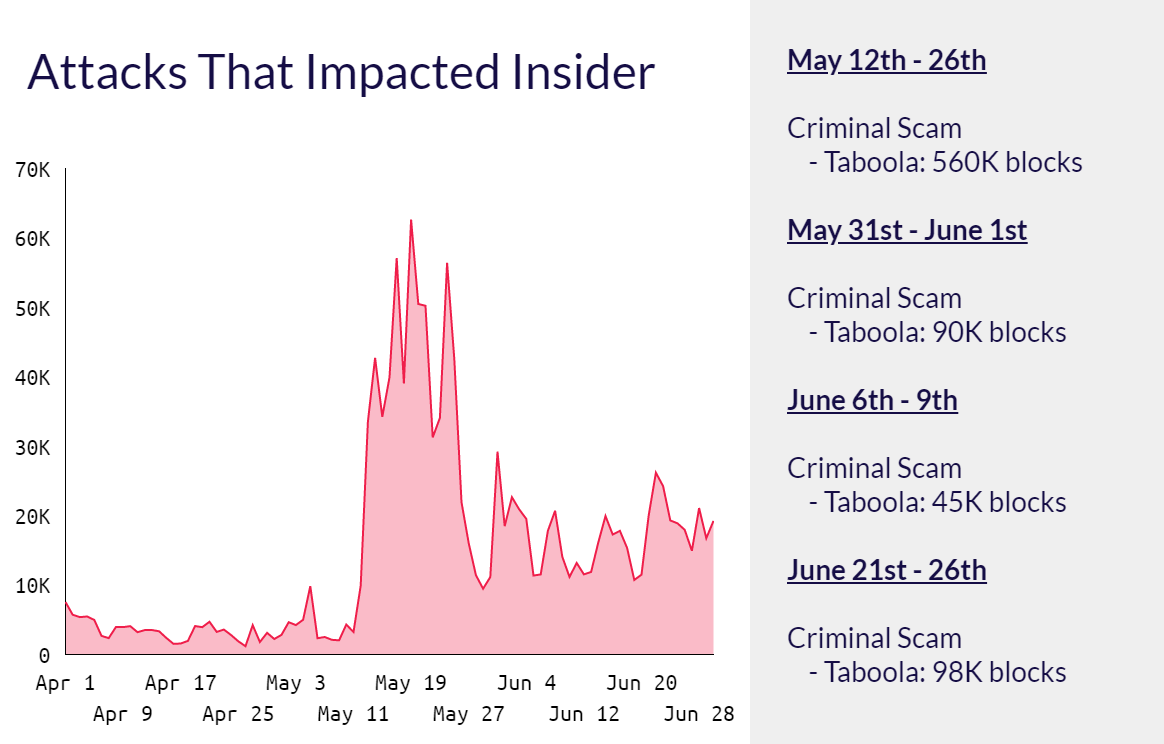 Ad Quality Management
Confiant's ad quality feature enables the Insider team to restrict specific low-quality elements that cause sites to load slowly or violate other Insider guidelines (ie: heavy ads, blocked categories, and other ad quality violations). Addressing quality violations before they enter the serve queue reduces the need to block individual ads after they are posted. The Confiant solution allows the Insider team to use broad-brush as well as specific control parameters to reduce latency, improve performance, and maximize revenues on their site.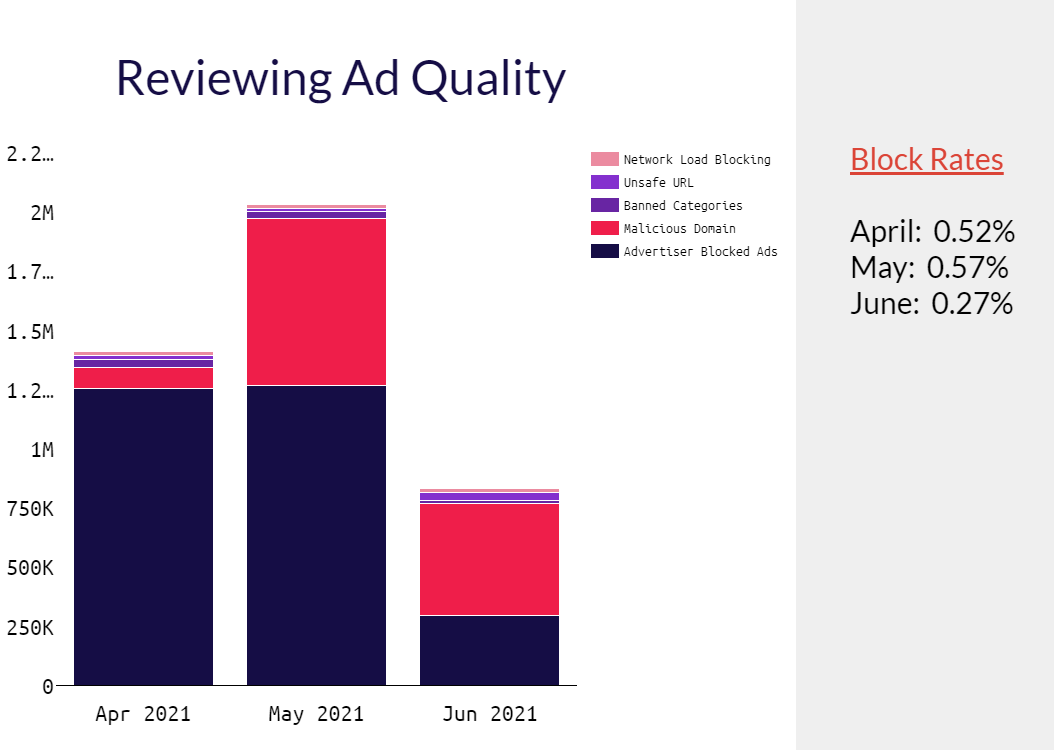 "Confiant's technology proved to be the best fit for our needs. We have improved site performance on our properties and optimized revenue. Having the controls we need to manage our own ad stack saves us valuable ad tech time."
Lia Sur
Senior Director, Programmatic & Data Strategy, Insider Inc
Industry Insights
In addition, as a Confiant client, Insider Inc. obtains valuable insights into industry averages and global ad tech concerns, active threat actors, their style of attacks, and other comparative global information through the Confiant MAQ reports.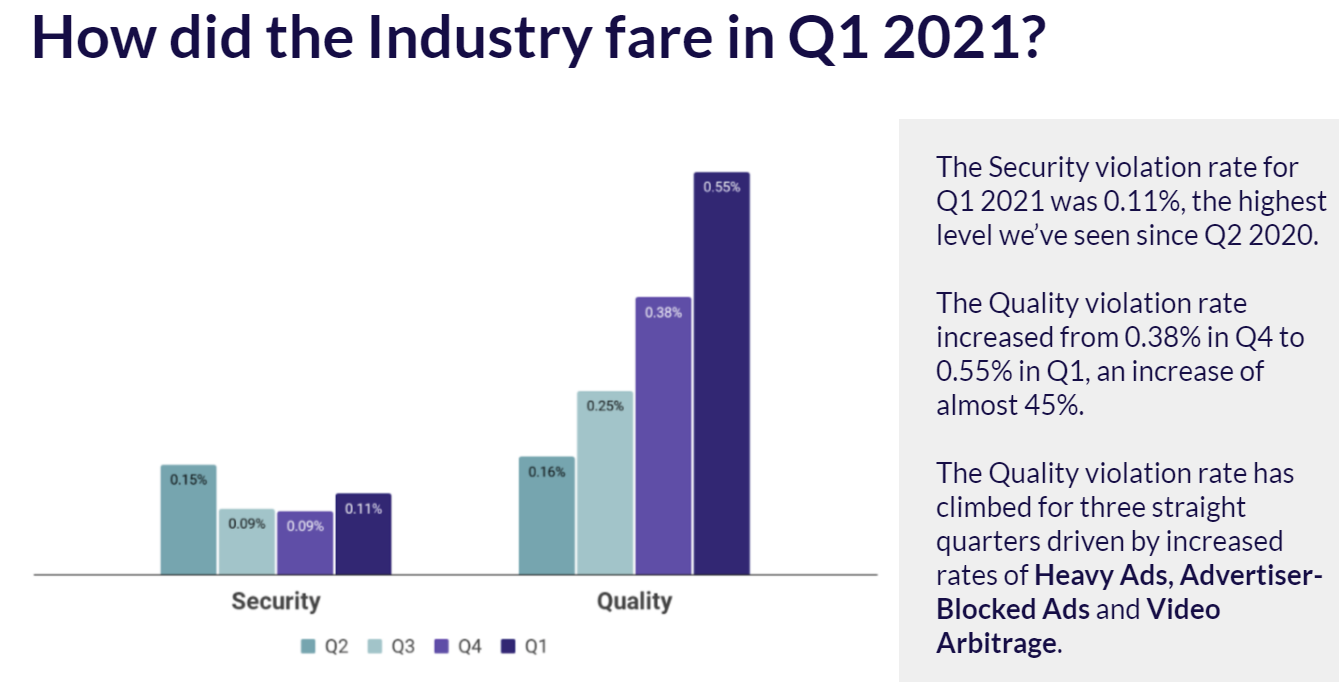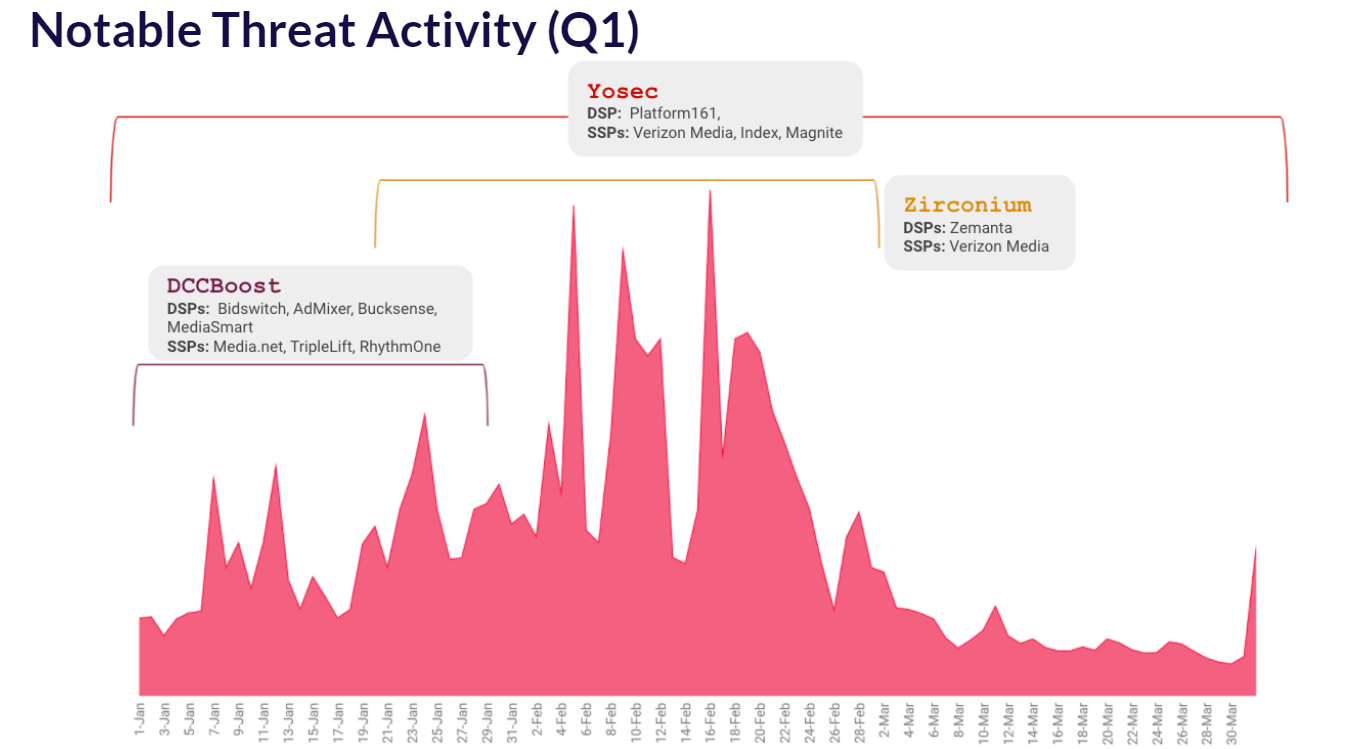 Insider's Favorite Solution Features
Real Time identification and blocking of ads with security violations
Automated re-auction and monetization of vacant ad impressions
Adjustable parameters for recognition of low quality ads
Regular updates and options to improve security, quality and privacy performance
CONCLUSION
The Ad & Revenue Operations team at Insider Inc. was able to take back control of their ad sites and deliver improved user experiences by utilizing Confiant's solution.
Their turnaround to date includes monitoring more than 9.66 billion cumulative ad impressions and blocking more than 43.8 million ads with security or quality violations. With the removal of the dangerous, disruptive, and malicious ad content, their sites have improved users' site experience, and complaints have dropped dramatically.
Their Ad & Revenue Operations team have reemployed recovered time and budget into productive ad management, which combined with revenues retrieved from Confiant's automated re-auction of vacant ad impressions has improved their ad revenues.
TAKE US FOR A SPIN
Request a trial and see how it feels to have Confiant on your side.