Ad Quality & Security for Platforms
Safeguard access to premium inventory and ensure the best ad quality, security and privacy out there with a future-proof solution that evolves to stay ahead of threats.
Provide safe, quality ad demand
Supply Side Platforms
Always ensure a clean, safe and premium ad experience for your publishers with a best-in-class ad quality and cybersecurity partner.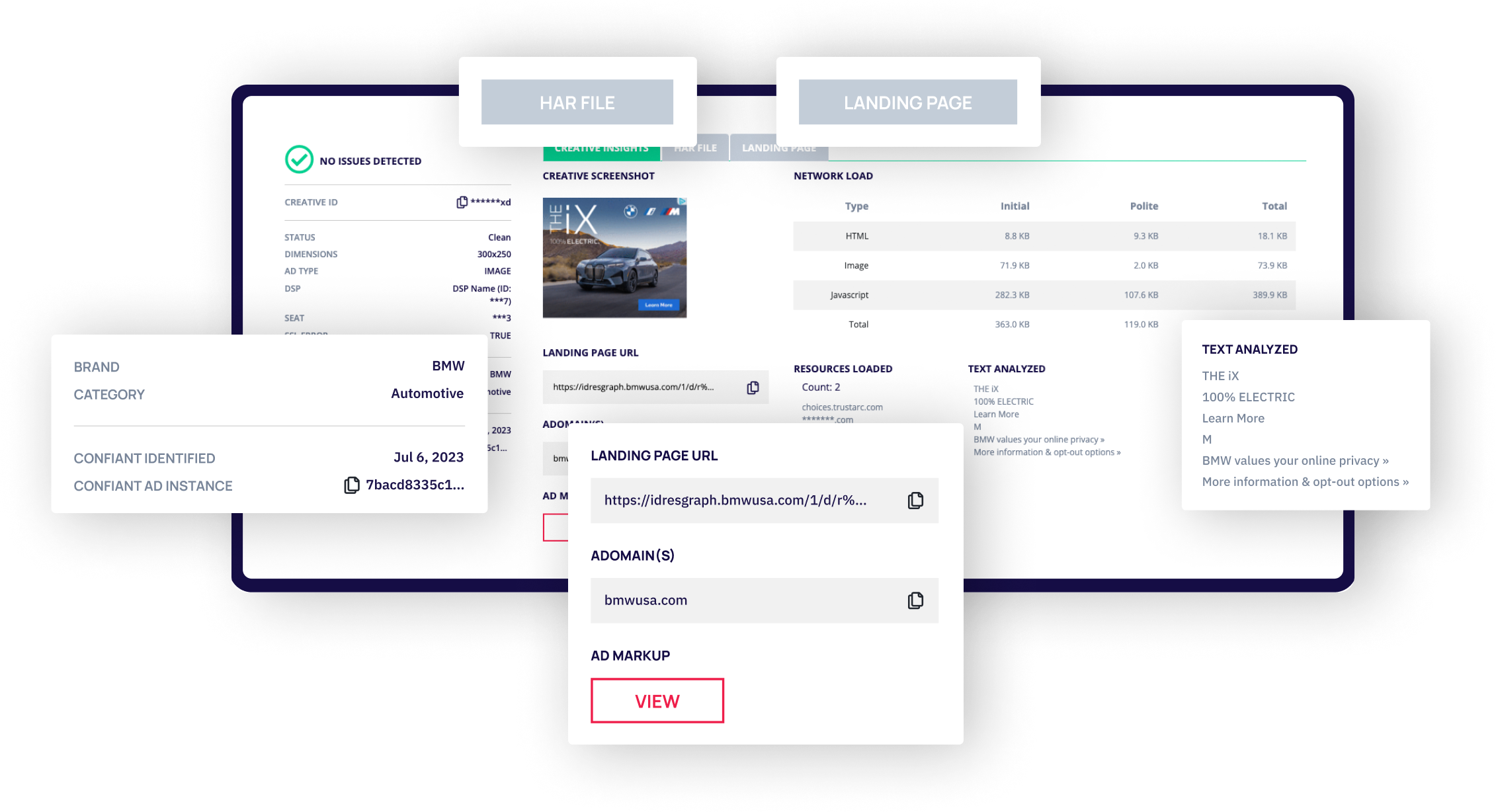 No more publisher churn

Ensure Access To Premium Inventory

Protect publisher relationships and your reputation by creating custom rule sets for your most premium publishers.

No more wasted time and resources

Optimize Publisher Management And Ad Quality

Eliminate publisher complaints and deliver the best quality ad experience with continuous monitoring.

No more revenue left on the table

Maximize Revenue Opportunities

Protect revenue and monetize every impression before they're blocked by publishers.
The only vendor that offers an in-auction signal for SSPs
Choose from either in-auction or asynchronous integrations to pinpoint rogue activity, even after it leaves your hands. And get a full feedback loop with client-side publisher data, including an alerts feed to help make sure you aren't missing any ad quality and security issues.

Never block the wrong ads again
Demand Side Platforms
Don't put yourself at risk for a loss of access to premium inventory, lost revenue, and attacks from bad actors. Ensure policy enforcement with the fastest solution for timely verification.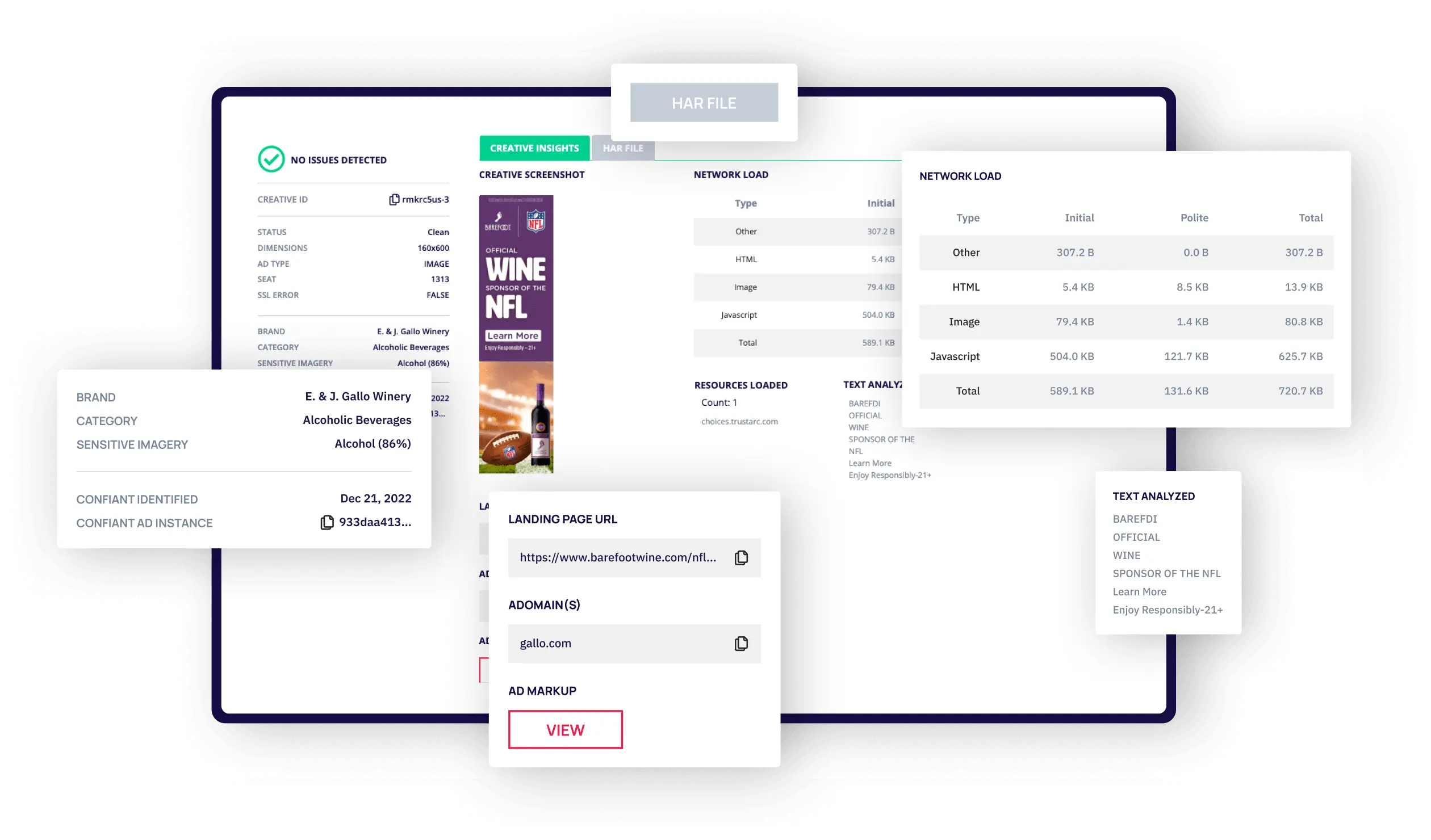 Holistic Monitoring of Creatives

Get a 360° view into the ad ecosystem

Verify creatives across each checkpoint in the ecosystem to ensure they behave after they've left your hands.

Total Creative Intelligence

No one has time to spot-check individual characteristics

Get an independent assessment of creatives beyond the bidstream with our complete picture of each ad—exclusive to Confiant.

DSP-First UI

Tailored specifically with your needs in mind

Upgrade to a unique API and innovative UI built exclusively for DSPs. Not just repurposed supply-side tech.
The only vendor that offers insights into publisher blocking for DSPs
Access advanced reporting that shows not only which publishers are blocking your creatives but why they are blocking them. Designed to optimize the future of DSPs, you can seamlessly mitigate issues through multiple checkpoints and gain exclusive insight into publisher blocking – all while balancing ad quality, ad security, and increasing revenue.

Buy security, not scans
We sell security, not scans and offer transparent, predictable pricing based on the metrics that matter to your business. Our focus is on providing exceptional security and protection, without conflicts of interest. That means, we absorb the cost of extra scanning during major attacks. All for better security and protection.
40,000+Premium Sites Protected
100 BillionClient Side Impressions Monitored Monthly
7 TrillionServer Side Auctions Monitored Monthly
80+Malvertising Techniques Mapped
We are very happy with the integration... almost all of our cases these days are just requests to amend AQ [Ad Quality] filters for pubs... there are actually almost no reported malware issues reported by our publishers.
With the support of partners like Confiant – we will continue to innovate and stay ahead of the curve so publishers can focus on creating content, building audiences, and increasing revenue
Expert tech meets expert people
Gain unparalleled support and the lowest false positive and false negative rates in the industry. Confiant's solution was built from the ground up by ad tech insiders with flexible integration types to customize around your business needs.