Interview with Tim Wolfe and Jay Crissman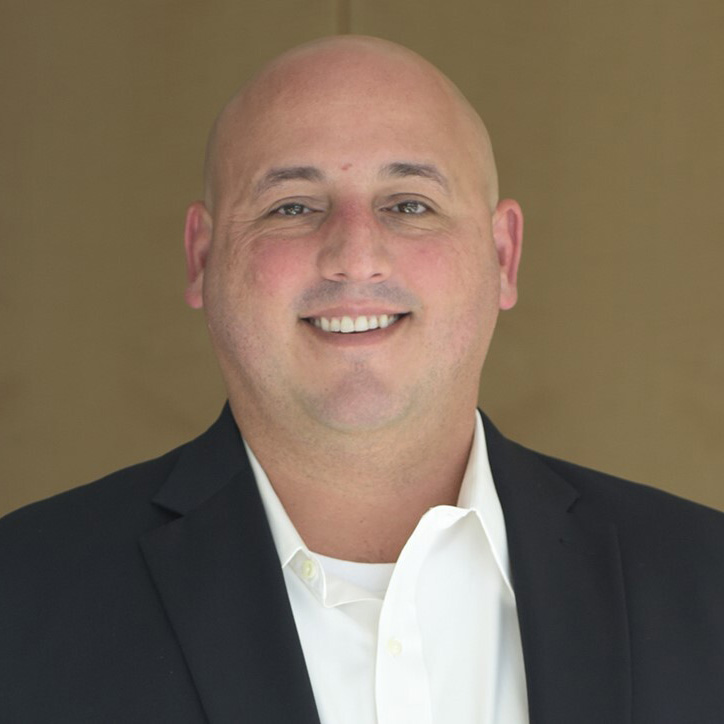 Tim Wolfe
Sr. VP, Revenue Ops at Gannett, USA TODAY NETWORK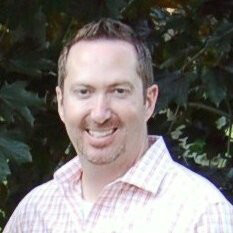 Jay Crissman
Dir, Programmatic Rev. Ops. at Gannett, USA TODAY NETWORK
Overview
Gannett Co., Inc. is a subscription-led and digitally-focused media and marketing solutions company committed to empowering communities to thrive. With an unmatched reach at the national and local level, Gannett touches the lives of millions with Pulitzer Prize-winning content, consumer experiences and benefits, and advertiser products and services. Gannett's current portfolio of media assets includes USA TODAY, local media organizations in 45 states in the U.S., and Newsquest, a wholly owned subsidiary operating in the United Kingdom with more than 150 local news media brands. Gannett also owns digital marketing services companies marketed under the LocaliQ brand, and runs one of the largest media-owned events businesses in the U.S., USA TODAY NETWORK Ventures.
THE BACKSTORY
Several years ago, Gannett's Revenue Operations team had previously worked with other vendors to implement ad security violations systems to block bad ads from their sites. Bad ads can be defined several ways, such as an ad that contains malware or an ad with an inappropriate image, or a file size that's too large and slows down our sites.
During the time, the Gannett Revenue Operations team began receiving a significant increase in negative feedback from users about Forced Redirects and other types of bad ads that were sending users to unexpected sites instead of the expected Gannett safe websites. Gannett's team found themselves spending time manually tracking down each of those redirect instances across multiple Supply Side Platforms, and responding to their own internal IT security team about why those redirects were occurring in the first place. These vendor's ad scanning technologies were not sufficient to support Gannett's needs and, with a commitment to improving the user experience, the team immediately searched for a new solution.
Gannett estimated that each time an incident occurred, it cost them $1,000 to $2,000 in resources to track down the issues, fix them manually, and follow up. But costs aside, it was also taking the team five to seven hours weekly to resolve the issues.
REQUEST FOR PROPOSAL AND SOLUTION SELECTION
When the Gannett Revenue Operations team evaluated Confiant along with other vendors for a potential solution, they included their own IT Security team in the RFP process for a newly combined RFP evaluation team with strong technical capabilities. They could easily evaluate any questions that may have arisen of a more technical nature, about how and why a new solution would be more effective at identifying and stopping potential disruptive ads, than the old solution. "Partnering with our own IT Security Team during the RFP process was key and beneficial for all of us. They helped us vet all of the vendor solutions in the RFP from a pure technical perspective to understand the validity of each offering," said Tim Wolfe, Senior Vice President, Revenue Operations at Gannett | USA TODAY Network.
Late in 2018, they decided to implement the Confiant Solution for Gannett as well as for USA TODAY Sports. Confiant's team worked alongside the Gannett IT security and Rev Ops teams to implement the Confiant solution across the business. Within a few short weeks, Gannett was up and running with an end-to-end solution.
RESULTS SINCE IMPLEMENTATION?
A majority of the bad ads causing unintended forced redirects are now blocked and removed from the Gannett websites. " It has been a couple of years since the Confiant solution was installed, and I have not heard complaints from the security team in quite a while - which is always a good thing. I was hearing about issues daily before, so from a monitoring and blocking standpoint it's been a very good relationship," said Wolfe.
"Additionally, the security team has also been very appreciative of Confiant's ongoing communications about broader identifications of outbreaks and attacks. They see the alerts coming from the Confiant security threat intelligence team. Even when those outbreaks might not be impacting us directly, creating awareness of those incidents for them has been beneficial and they like getting the advanced notifications," Wolfe concluded.
CONFIANT X GANNETT
Aside from advanced email notifications of increasing threat activities, Confiant provides individualized threat activity reports in their Quarterly Business Reviews for clients. The following are examples of Gannett's prior twelve months ad security and quality blocking rates, and a report from their 2022 Q3 Quarterly Business Report (July 1 through September 30, 2022) showing the frequency and intensity of daily attacks blocked during that quarter.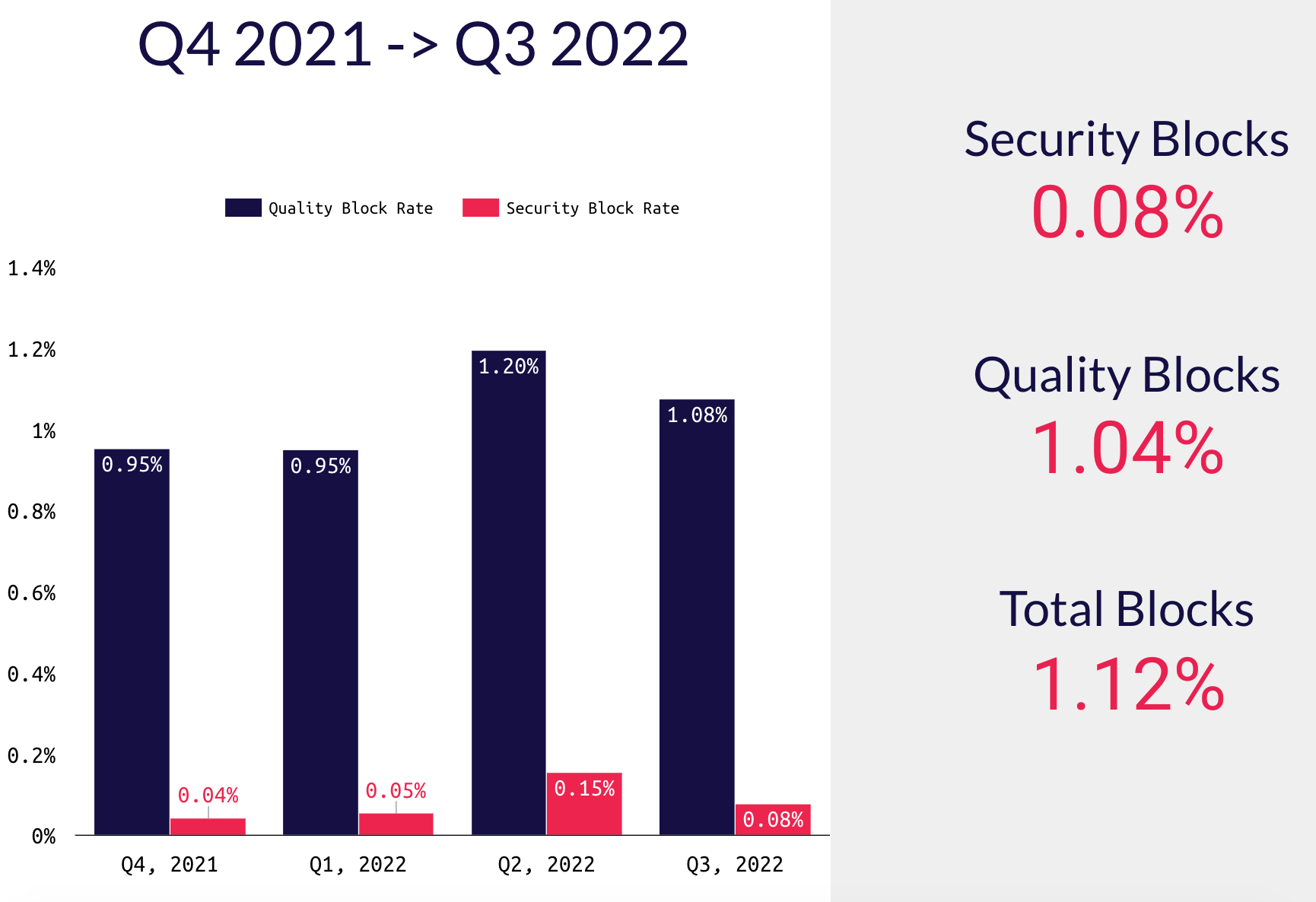 During the previous four quarters (Q4, 2021 - Q3, 2022), the Confiant solution monitored more than 36.9 Billion total ad impressions and blocked more than 1.12% of ads with security or quality issues. During that period 0.08% were malicious ads, like redirects, cloaked scam ads and other security issues, and 1.04% were low quality ad impressions that degrade site performance.

Because of the Gannett ad ops team's care and vigilance using the Confiant solution to identify the SSPs with the highest security violations (including those causing inappropriate mobile redirects) Gannett's average security violation rate is now significantly better than the industry average.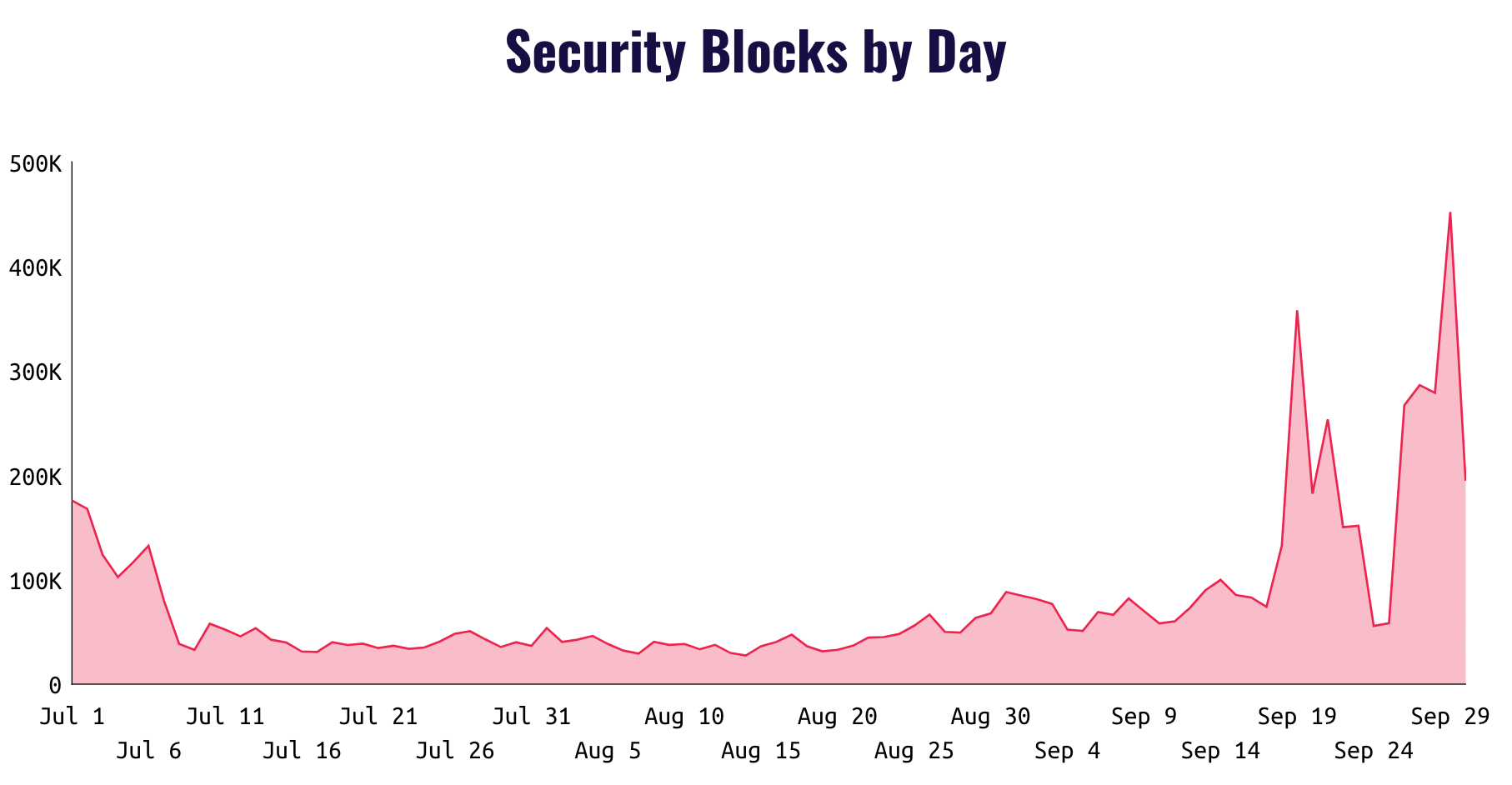 Jay Crissman, Director, Programmatic Revenue Operations at Gannett, USA TODAY NETWORK explained, "Since implementation of the solution, Confiant has made some nice feature additions. We really appreciate Confiant's centralized controls for things like ad blocking by category, brand, and account specific blocks. We have a large stack and about 22 or 23 SSP partners, so having the ability to set up our ad blocks in one place is much more efficient, effective, and a lot less time consuming than going from one SSP platform to another to set-up separate blocks in each one. We leverage a number of integrations including, Amazon's Transparent Ad Marketplace (TAM), Open Bidding, Ad Exchange, and PreBid. So, now we can monitor, track and block all of that more easily through the Confiant solution."
Confiant's Quarterly Business Review and Malvertising and Ad Quality (MAQ) Index respectively, provide individual details about Gannett's specific SSP's performance and industry wide results and insights so they can compare and manage their own partners.
CONCLUDING REMARKS
"We had experienced increased problems before we implemented the Confiant solution and now most of those issues are resolved."
Tim Wolfe
Senior Vice President, Revenue Ops, at Gannett, USA TODAY NETWORK
Crissman commented, "To add to that, our user experience, especially from the ad side and site performance is extremely important. Our Dev team is hyper focused on the speed, and efficiency of the page load times. So we are constantly utilizing Confiant's ad quality features to manage site performance and load time."
Key Results with Confiant
Eliminated a majority of bad ads that caused user complaints
Improved site performance and safety for Gannett user audience
Recouped ongoing Revenue Ops hours by automatically identifying and blocking bad ads when possible
Bad ads blocked accounted for 1.12% of 36.95 billion impressions monitored during the prior twelve months
TAKE US FOR A SPIN
Request a trial and see how it feels to have Confiant on your side.