Jordan Stokes • 3 minute read
What are the three main factors that determine ad quality?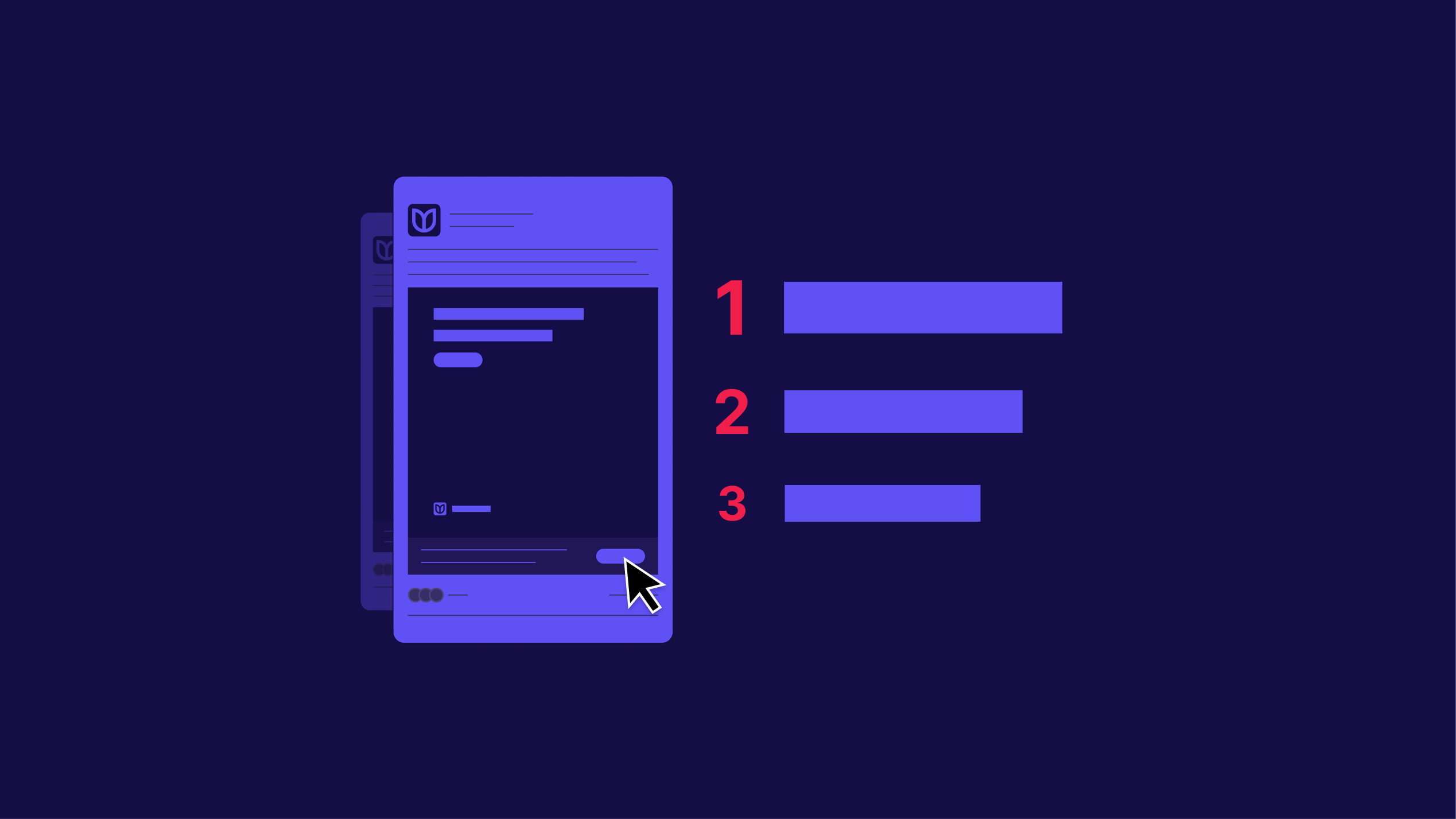 Our internet use has increased exponentially as we rely on technology more and more in our daily lives. This evolution revolves around internet advertising, how users interact and perceive these ads, and how brands present the ads we see online daily.
As the prevalence of internet advertising continues to grow, the number of attackers and scammers, unfortunately, increases with it. Because these so-called "bad actors" are constantly evolving how they attack innocent users with illegitimate online ads, it is on publishers and platforms to ensure they have a solution to determine the right ad quality for them.
The importance of good ad quality and better control
Do you have control over the ads you deliver to users? Luckily, you can create a fully customizable system matched to your advertising standards, allowing you to promote only safe ads for your users.
Your main goal may be to filter through and block "bad" ads, which, if you're able to do so correctly, leads to better protection, security, privacy, and consent compliance for you and your users. A software solution can help you regain control over ad quality and understand at a granular level what ads are running across your properties.
With customizable creative verification software, you can control your digital ad strategy in the following ways. For example:
Implement a list of requirements and rules to determine what types of ads may be shown
Enforce these rules in real-time to avoid the time and effort of manually monitoring what ads are appearing on your site
Provide deep insights into the ads that are running, allowing you to customize your creative rules further and ensure a high-quality ad experience for users
Learn more about what ad quality issues publishers care about here.
Three main factors that determine ad quality
1. Ensuring safety and security
A top concern for publishers is to provide a positive ad experience. Central to this is ensuring the legitimacy and security of those ads so that you and your users can feel safe interacting with them.
Similarly, one of the biggest problems for platforms is having the means and time to sort out the good ads from the bad. Implementing an ad quality solution to aid your digital advertising approach can lead to a better experience for publishers and users.
Malicious ads (like the ones below) can lead to a negative reputation and feelings of insecurity. Publishers and platforms must partner with a cybersecurity company steeped in ad tech to help prevent malvertising attacks and ensure a secure user experience.

2. Proper ad behavior
The second main factor determining ad quality is whether or not the ad behaves properly. Ads that play audio without user interaction or that take over the screen can be highly disruptive, so you want to be sure that any ads behave in a way that's conducive to a good user experience.
Suppose an ad is not displaying properly. In that case, it can create a negative outcome for everyone involved:
The advertiser is missing out on (and potentially alienating) prospective customers
The user can feel insecure or unsure of the legitimacy of the ad
The publisher's site performance and reputation can be negatively impacted
One of the best ways to ensure that your ads aren't going to deter your site performance is by ensuring that the right ads are appearing and the wrong ones aren't. If you start there, you can ensure that the appropriate ads behave the way they were designed.
3. Appropriateness of ads
To make users feel comfortable interacting with ads on your platform, you want to be sure that you are mindful of the appropriateness of the ads being shown. This mainly comes down to the platform you are using and the rules you put into place to ensure your site is allowing the right ads and blocking the wrong ones. This isn't as much about blocking unsafe ads and allowing secure ones. Instead, it is more about presenting users with relevant and appropriate ads based on your site demographic.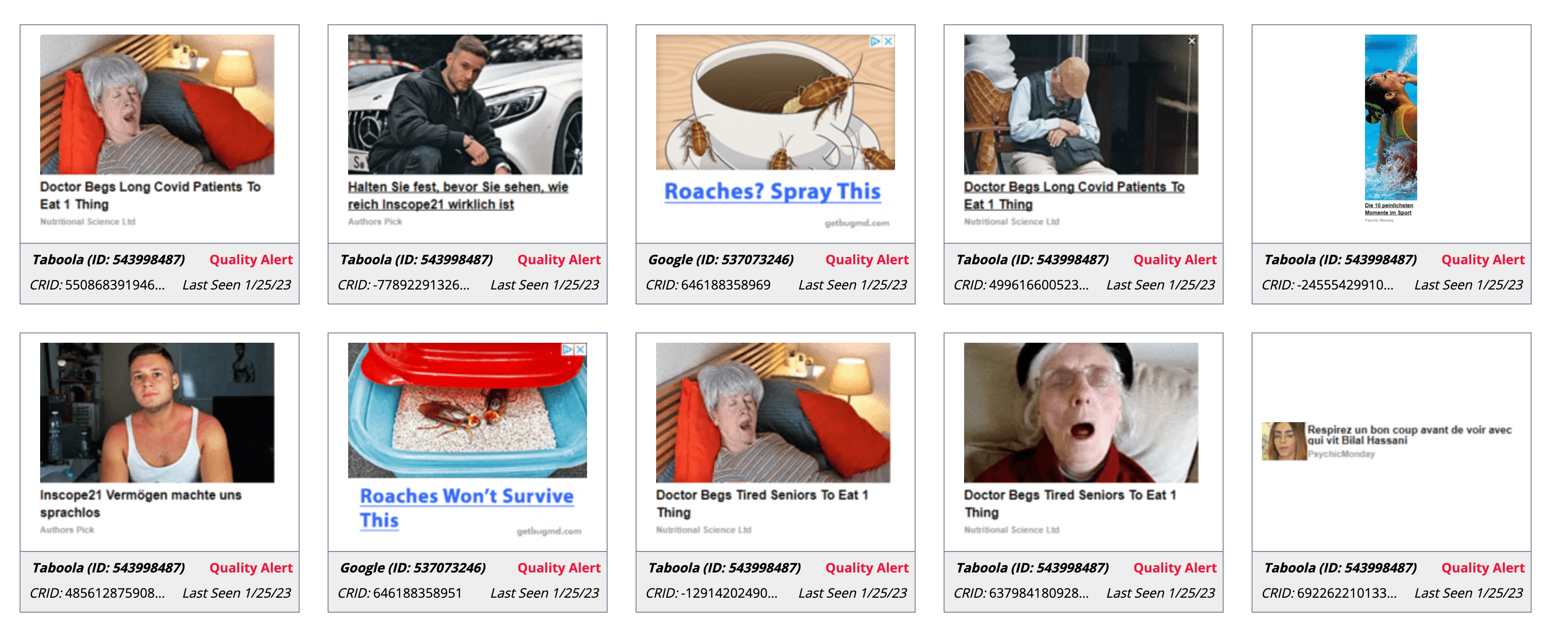 By controlling the appropriateness of your ads, you can ensure that you are providing quality ads targeted toward your users and avoid deterring users from your site.
For example, perhaps you're a travel booking site that wants to ban ads from competitors on discounted flights and hotels, or maybe your target audience is a younger, more conservative crowd, and you want to limit alcohol advertisements. No matter your business, you want to be sure you are promoting appropriate ads, or it can limit ad effectiveness and potentially steer away users.
How can digital ad tech solutions help my platform?
Focusing on security, proper behavior, and ad appropriateness should be the main priorities to promote quality ads and make your users feel safe. By utilizing a proper cybersecurity solution focusing on ad tech, you can regain control over the ad experience and protect your users from malvertising attacks that can lead to user loss and reputational damage.
Features to look for in a software solution to ensure you're delivering quality ads:
Creative Search – The ability to rapidly search through millions of creatives and find those that are problematic to your business.
Advanced Brand and Category Controls – Block ads from brands or categories that are poor fits for your audience.
Block Disruptive Audio, Visual & Expandable Ads – Set customizable parameters to stop unwanted audio, video, and expandable ads that can plague user experience.
Customizable Quality Controls – Customize the ad experience as you see fit for your business.
Reporting – Timely reporting on all creative issues and the ability to share the reports instantly.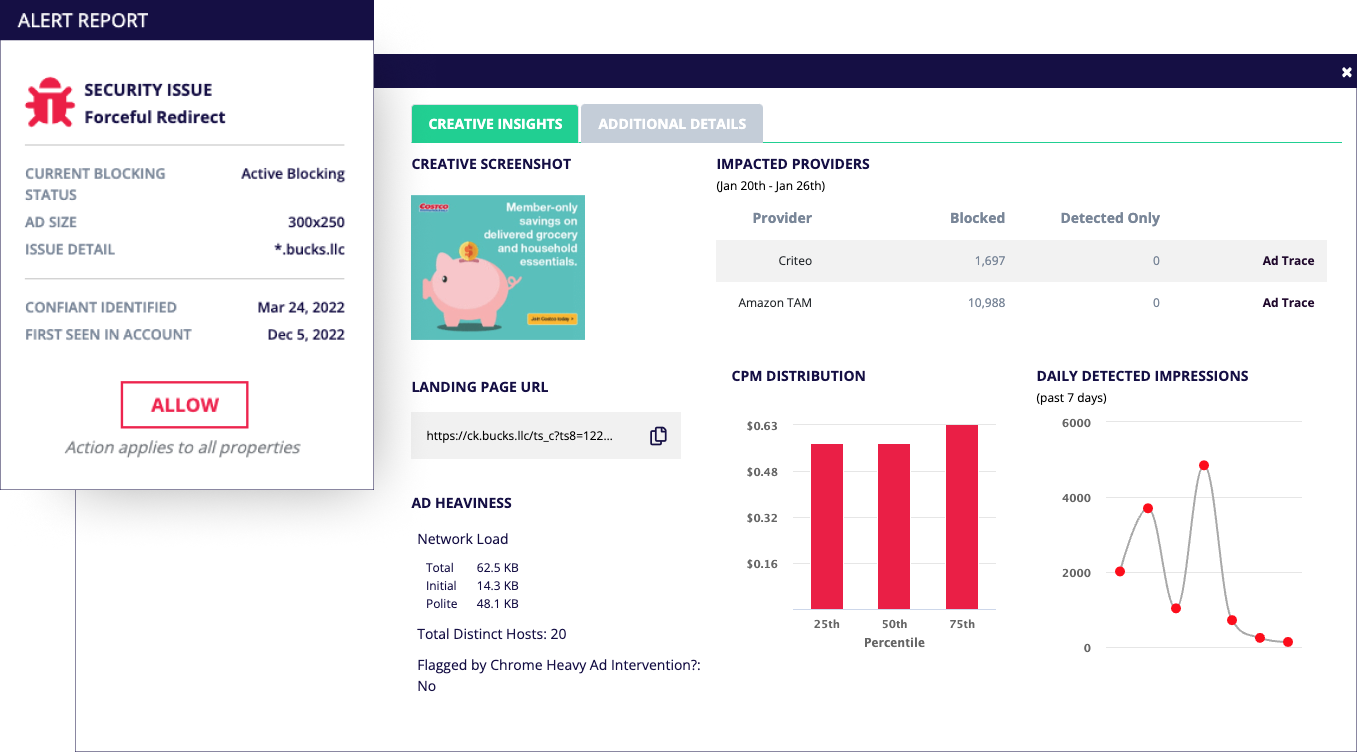 Learn about Confiant detection and blocking for misleading claims here.
Confiant is an industry-leading creative verification solution that offers proactive protection from real-time threats and the ability to create highly customized rulesets. With Confiant, you can control your online ad experience and be confident that you are providing premier ad quality and security for your users. Want to learn more? Reach out to us here.