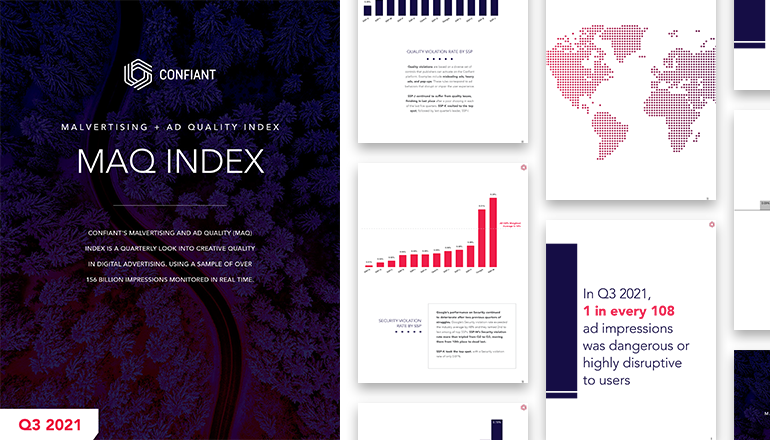 Confiant's Malvertising and Ad Quality (MAQ) Index (formerly known as our Demand Quality Report) is a deep dive into the quality of demand in digital advertising. Using a sample of over 150 billion advertising impressions monitored from July 1 to September 30, 2021, Confiant is able to answer fundamental questions about the state of ad quality in the industry at large.
What's up this quarter:
Violation rates for both Security and Quality jumped significantly in Q3 compared to Q2, with the Security violation rate nearly tripling and the Quality violation rate rising for the fifth consecutive quarter.
Google once again underperformed the industry for Security, coming in at nearly 50% above the industry average. Google's Security violation rate tripled from Q2 to Q3.
Misleading Claims and Heavy Ads remained top Quality issues, with Heavy Ads increasing nearly 50% in prevalence.
Gambling remained the most-blocked ad category by a wide margin, but it was joined by News in the top three.
1 in every 108 impressions was dangerous or disruptive to the user.